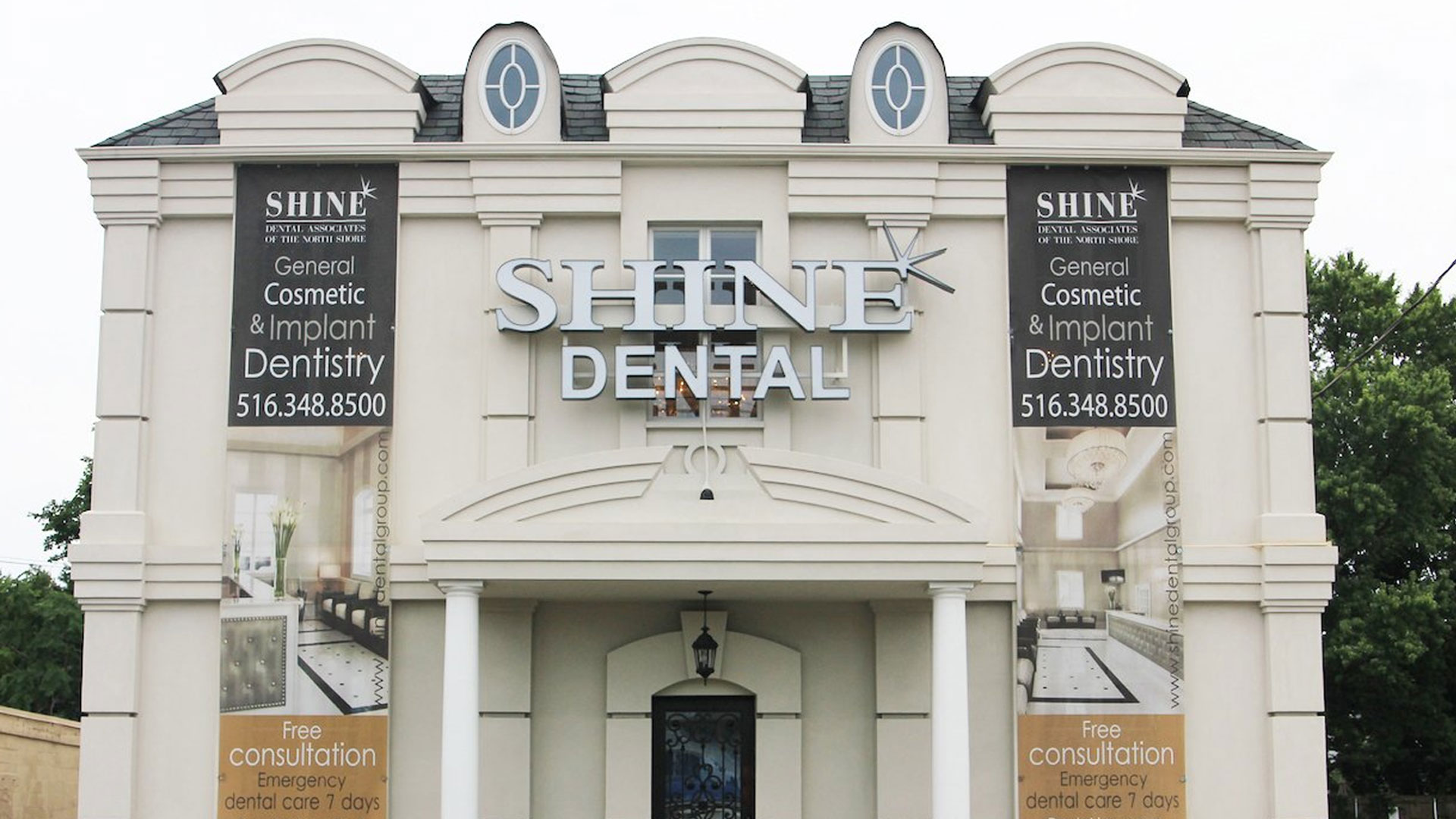 Shine Dental Associates
400 Jericho Turnpike, Syosset, NY 11791
---
---
Specialties
General Dentistry,
Pedodontist,
Oral Surgeon,
Hygienist,
Endodontist,
Geriatric Dentist,
Dental Anesthesiology,
Services
Dental Cleaning,
New Patient Dental Exam ,
Invisalign,
Braces / Retainer,
Root Canal,
Wisdom Tooth Problem,
Tooth Decay,
Dental Pain,
Bad Breath / Halitosis,
Bleeding Gums,
Broken / Cracked Tooth,
CT Scan (Dental Scan),
Cavities,
Dental Bone Graft,
Dental X-Rays,
Filling,
Fluoride Treatment,
Gum Inflammation / Gingivitis,
Gum Lift,
Plaque / Tartar,
Scaling & Root Planning,
Sealant,
Sensitive Teeth,
Teeth Whitening,
Tooth Extraction,
Dental Implants,
Temporo-Mandibular Joint (TMJ) Pain,
Crown(s),
Dental Abscess,
Dental Implant Restoration,
Gum Surgery,
Internal Sinus Lift,
Laser Dental Treatment,
Sleep Apnea,
Osseous Surgery,
Periodontal Disease,
Periodontal Maintenance,
Teeth Grinding / Bruxism,
Crooked / Crowded Teeth,
Open Bite,
Overbite,
Under Bite,
Caries Risk Assessment,
Mouth guard,
Endodontic Retreatment,
Endodontic Surgery,
Bridge,
Dentures,
Inlay(s),
Veneers,
Nightguard ,
Languages Spoken
English,
Spanish,
About Shine Dental Associates
Shine Dental Associates provides stat-of-the-art dental care, including: dental implants for missing teeth replacement, denture repair and stabilization, cosmetic dentistry, family and general dentistry. Our goal is to provide patients a balance of value, personalized care, and clinical excellence. We offer the latest dental technology, quality materials, and easy to understand treatment options in a comfortable and elegant setting. You will find the atmosphere of our office to be efficient and friendly. We are eager to share our extensive knowledge and experience with you and provide you with the information you need in order to maintain excellent oral health. We want all patients to achieve a perfect smile, for less.
Reviews
Anuj Gupta
I have always had a great experience dealing with Shine Dental. Dr. Mittle and Daniella have been a pleasure to work with. Keep up to good work.
Alexis Shooshani
I've had an amazing experience at shine for years!! I've seen many dentist here and every each one has done a phenomenal job. All the of the receptionist are beyond sweet. I wouldn't trust anyone else to touch my teeth.
Frank Marino
Dr. Wynn & his assistant Jenny were both amazing! They made this experience very comfortable and pleasant for me. I had 2 implants put in and they came out perfect. Very happy would definitely recommend.
matthew jay
Staff are courteous and friendly. Dr Nguyen always does great work on me and my family. Daniella does an excellent job with our cleanings and staying on top of our dental hygiene and care.
Sheila Borgese
Had first appointment and WOW!! Dr Weinstein is incredible and the whole staff, amazing! I present a challenging case but I have faith in Dr Weinstein.